It's Time For Tea Designs time on my blog today :-)
I am sharing a gorgeous card using
"Balloons"
from the
Blooming Lovely Collection
, she is available individually or as a bundle.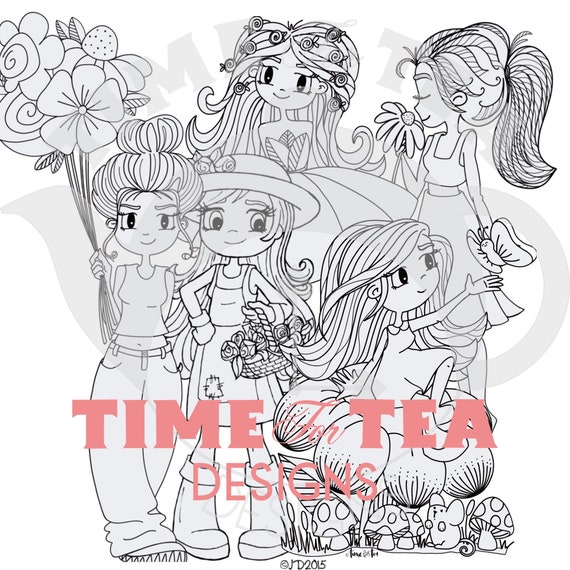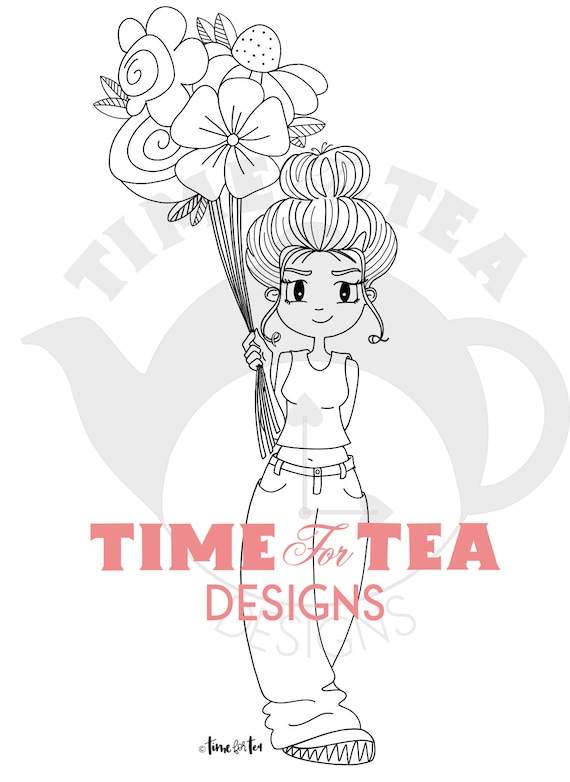 I had so much fun colouring up this young lady, so many colours went into her and she turned out exactly how I had envisioned. You can watch the colouring process
here
.
I printed her onto Mondi Color Copy 250 GSM, this is my go to for Copic Markers, X-Press it would be my favourite with availability here in Australia but unfortunately with the amount of colouring I do it just isn't affordable for me.
I coloured her up using Copic Markers, once that was done I went looking for papers and something to make her stand out. These days most of the time I colour once I have found papers to match but today I was having a colouring day and just coloured up a few images to get myself into the crafting mood.
I also had this leftover die cut word on my desk which fit my card perfectly. The die cut was from a My Favorite Things Die-Namics set called Sending Hugs, the sentiment was also from My Favorite things, it was a stamp set called More Essential Sentiments. That was actually a set I had sitting on my desk from one of my last deliveries that I had not yet used.
I ran the die set through my Sizzix Big Shot (in a previous sitting) using Canson Cardstock. The sentiment I popped onto a Lawn Fawn Acrylic Block and inked up using Memento Tuxedo Black, I stamped it onto some leftover Mondi Color Copy 250GSM Cardstock that I had sitting on my desk.
I decided I wanted to cut the image out using a Spellbinders Die, I already had the Kraft piece on my desk so I grabbed the matching die - Spellbinders Labels Eighteen and using a pacer pencil carefully traced the inside of the die. I then used my EK Success Cutterbee Scissors to cut it out, then erased the pencil markings. That then left the Kraft piece showing a border. I carefully cut around the shoe and the top flower so they were outside of the die shape and I didn't trim them off.
I then layered out the "Sending" die cut and the sentiment and adhered them where I wanted on the image before I went any further.
I had a Hopscoch 6x6 Paper Pad sitting out from another project. I cut the flowered looking layer using a My Favorite Things die - Stitched Rounded Rectangles, which I ran through my Crafter's Companion Gemini. (Yes you will be happy to know he finally made it out of the box he has been sitting in for months.. oops my bad)
I found the orange strip sitting inside the Hopscotch Paper Pad that I used and it was the perfect leftover piece to fit my card.
All the layers were trimmed etc using Tonic Studios/Tim Holtz Guillotine and adhered using Scotch 3M ATG or Tombow Mono Multi Liquid Adhesive.
I layered everything onto a Twiddleybitz Cardbase. Final touches I added some Tonic Nuvo Crystal Drops in Antique Rose.
Products Used On This Card
My Favorite Things - More Essential Sentiments
Memento Tuxedo Black
Hopscotch 6x6 Paper Pad
Scotch ATG
My Favorite Things Stitched Rounded Rectangles
Mondi Color Copy 250GSM
EK Success Cutterbee Scissors
Tim Holtz Tonic Studios Guillotine
Lawn Fawn Acrylic Block
Spellbinders Nestabilities - Labels Eighteen
Tombow Mono Multi Liquid Adhesive
Crafter's Companion - Gemini
Tonic Studios - Nuvo Crystal Drops - Antique Rose
My Favorite Things - Sending Hugs Dienamics
Twiddleybitz Card Base
Copic Markers Used On This Card
E000, E00, E21, E11, E04, R20
Y13, Y15, Y18
YR14, YR15, YR18, YR27
YG05, YG09, YG67
RV13, RV17, RV19
V04, V05, V07, V09
E55, E57, E59
BG07, BG57
B93, B95, B97, B99
R35, R37, R39
I hope you have enjoyed my post today, if you have any questions feel free to send me a message or contact me via facebook (all links can be found below).
Thanks for stopping by, Deni
You can find my cards for sale here
https://www.facebook.com/angelhandmadepapercraft
My You Tube Here
https://www.youtube.com/user/Denielle1983/
My Blogs Here
Angel Handmade Papercraft
http://angelhandmadepapercraft.blogspot.com.au/
Auzz Trinklets N Crafts
http://auzztrinkletsnkrafts.blogspot.com.au/
Whimsy Stamps
https://whimsystamps.blogspot.com.au/